VDL-ETG
Synapticon GmbH
Etihad Airways
Lufthansa Flight Training
Thomas Regout International
Toronto Rehabilitiation Institute
Turkmenistan Airlines
Veraxx / US-Marine Corps
ACS-Hydraulics / US-Navy
Motorcortex is a hard-real-time Linux-based Control System for high-end industrial applications. It provides real-time control of industrial hardware (e.g. over EtherCAT, CAN or ProfiNET) and a very high-performance communication layer to higher level applications, such as a User Interface or Data Analysis Tools.
Motorcortex allows high-speed streaming communication directly to the webbrowser (without an intermediate server), which is a game-changer in industry. It is now possible to build highly-responsive web-applications for extremely smooth interaction with machines.
Motorcortex has open (and free) API's for all major languages like Javascript, Python and C++. This offers much more freedom than current industrial control systems and allows true Industry 4.0 applications with only a few lines of code. Communication to legacy PLC systems is supported through OPC-UA.
Communication with Motorcortex is as easy as setting up a simple webpage. With a few lines of Javascript code you can connect to your machine directly and securely from any Webbrowser and exchange data at blazing speeds. No other industrial communication system is as easy to set-up.
MOTORCORTEX-based Applications are already set-up to share all their data automatically in the Realtime-Database, so external applications or services can access the data.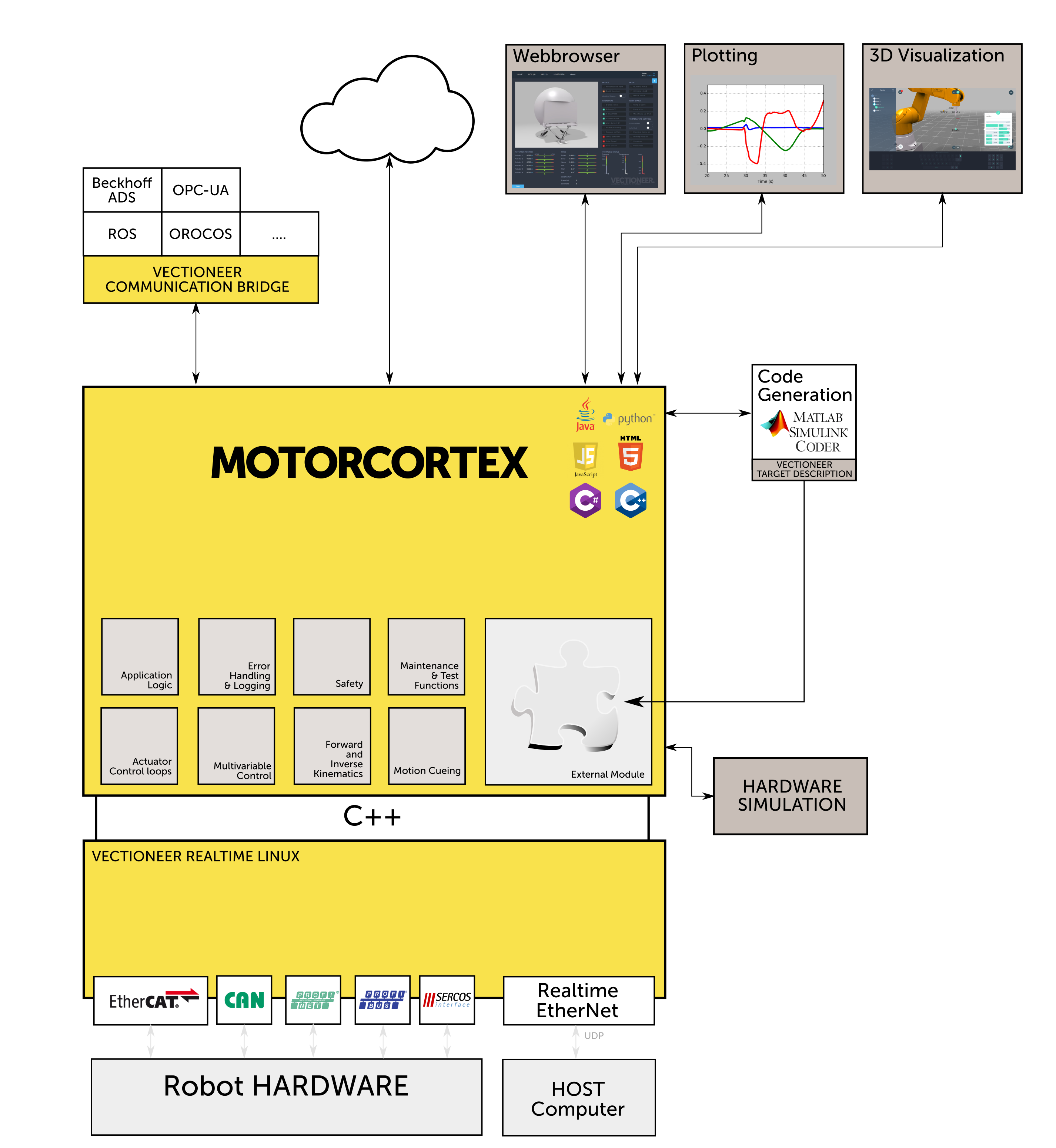 Beautiful and responsive user interfaces for machines
Because the MOTORCORTEX Control System is optimized for use with webbrowsers it means that webdesigners can now make beautiful custom user interfaces for machines, that are easy to use and work on any device.
Moreover the Motorcortex-Canvas GUI builder allows anyone with a webbrowser to create a machine dashboard quickly by simply arranging elements on a canvas and connecting them to real-time machine data.
Add additional skills to your MOTORCORTEX application:
Use MOTORCORTEX Control Desk to make traces of all available Machine data, straight from your browser
Create User Interfaces, Visualizations and Dashboards with MOTORCORTEX-Canvas
Install MOTORCORTEX-Tracer to dump selected data to disk or upload it to the cloud based on events (such as machine faults)
Generate code directly from Matlab-Smulink
Add MOTORCORTEX-Control-Lib to your application and use control objects like filters, signal generators, PID controllers, switches, soft-stop and many more functions.
Stream machine data directly to SQL Databases or Cloud Services like Amazon IoT to be further processed by stream processing tools like Kafka, Flink or Storm.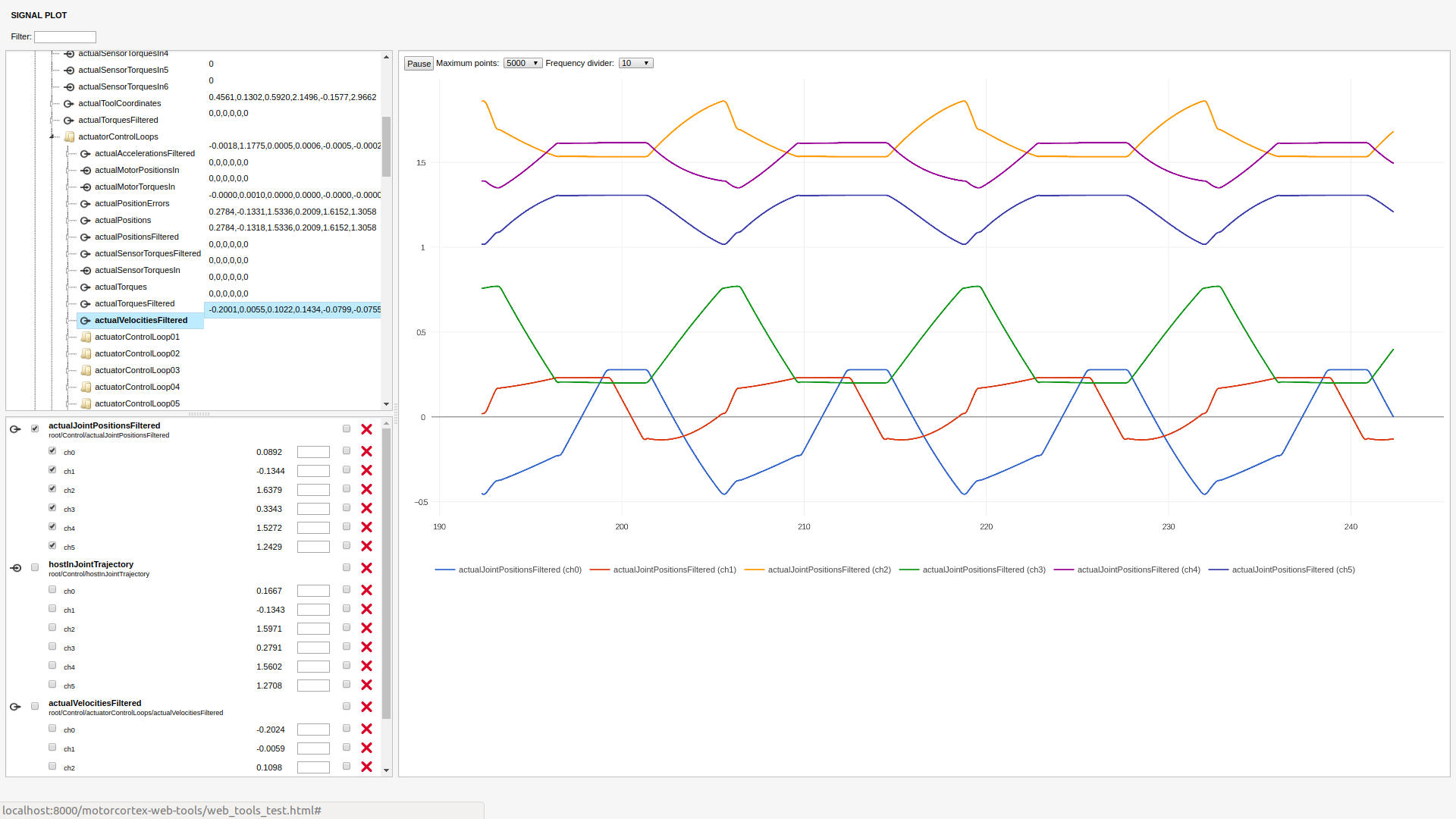 The freedom to run anywhere
MOTORCORTEX is built upon a Standard Linux foundation, it therefore can run on many hardware platforms supported by Linux, such as Intel x86 or IA64 architecture or ARM based architectures. Many applications can therefore take advantage of the advanced MOTORCORTEX inter-machine communication and it is possible to mix time-critical hard-realtime systems with non-realtime systems on the same framework.
It is even possible to run your control application in the cloud with a simulated hardware for instance so your clients can test the software interfaces always on an up-to date system, without having to install anything. Once the complete system has been designed and virtually tested, moving it to a real machine is a breeze and reduces installation times tremendously.
MOTORCORTEX is intended for use in many types of systems, from low-cost hobby robots to high-end control systems for aerospace applications. From mobile hydraulics to high-precision machinery.